Arranging stuff onto some new shelves, going through boxes, and taking a trip down memory lane today. This is a collection of recordings that I've had done over the years – some are just raw live recordings, some are full studio recordings released by other people.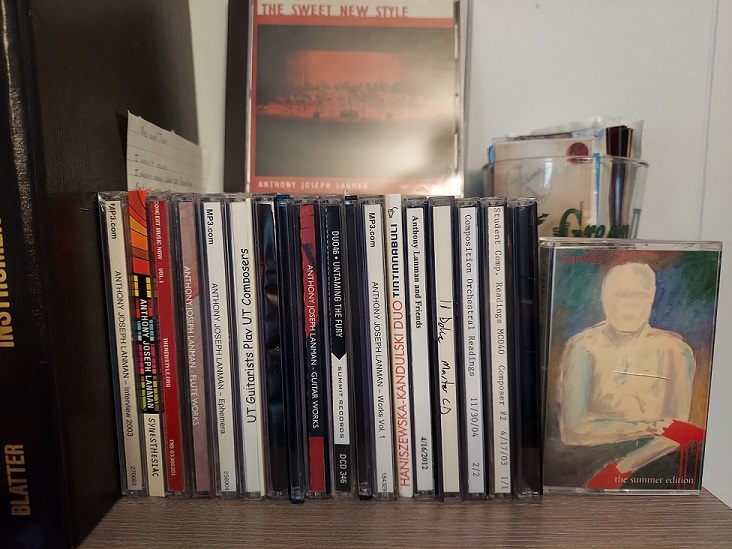 "Interview 2003" – This is a recording of the very first interview I ever did, with Dr. Jonathan Kulp at the University of Louisiana at Lafayette. This is one of several "
MP3.Com
" CDs that I released back in the day, and this had to be the last one, as
MP3.Com
went defunct around this time. I was just recently talking about this with
Elliott Miles McKinley
– it was an incredible time before any laws having to do with internet royalties, etc had been passed, that now, for instance, allow Spotify to pay their artists .000001 cents per stream. For a short time,
MP3.Com
decided to pay their artists based on downloads – and it was real money. I was making around $2000-$2500 a month, and so was Elliott. The music industry and other big corporate entities put a stop to that real quick.
"Synesthesiac" – This was my self-released album that I funded through Kickstarter that I released in 2014. It contains music that I had recorded with a bunch of ridiculously talented people over a ten year period. I recorded and/or mixed and mastered it with the late
Don Arney
, who I miss terribly.
"Flute Works" – Another "NewStyle" CD featuring my works for flute.
"Ephemera" – Another
MP3.Com
CD, this one featuring various small chamber and solo pieces. I should mention how these CDs were made, because it is fascinating what
MP3.Com
did back in the day. You would upload music, just like modern-day Soundcloud. But then, you could assemble albums from those uploads, create art, covers, etc. Then, whenever the CD was ordered, they were printed on demand and shipped out. It was great.
"UT Guitarists Play UT Composers" – A live recording from a concert that I put together at the University of Texas on April 19th, 1998. The concept was to pair composers with guitarists with the goal of getting composers to write for guitar, while the guitarists would help demystify the instrument, and get the experience of playing something new, and written for them. I took this concept to Indiana University where we created the "Hammer and Nail" concert series, which I'm told is still going to this day, 20 years later. This concert featured works by
Paul Rudy
, Jon Kulp, Myself,
James Barry
and
Paul Richards
.
The next, unmarked ones are from various recitals and readings, including a reading by Vocal Essence when they read a choral piece of mine called "Okura", a dress rehearsal CD for some recital, and the recording for the performance of my alto flute concerto "Three Lamentations on the Death of John Dowland".
"Guitar Works" – Another NewStyle CD featuring my guitar music.
"Duo 46 – Untaming the Fury" – The first professional recording of the first commission I ever got!
Duo Fortysix
included "Sonata 46" on this album, and I am still grateful to this day. Great duo, great album!
"Works Vol. 1" – Another
Mp3.com
joint
"Haniszewska-Kandulski Duo – Tintinnabuli" – Another professional recording, this one from Poland! Violinist
Sandra Haniszewska-Kubasik
and guitarist
Tomasz Kandulski
recorded "Sonata 46", and ripped it to hell. Amazing performance!
"Anthony Lanman and Friends" – This was a special concert for me, and also a bittersweet one. I graduated with my doctorate in 2008, with dreams of being a college professor. After trying to land a job for several years, I finally did find an adjunct position at Indiana State University in Terre Haute, IN. I taught there for one semester, fully expecting to continue, but was let go about a week for the Fall semester started. When I did teach there, I met many people that would become friends, and I decided that even though I didn't teach there anymore, I wanted to do a performance/composition recital, and include as many of the friends that I had made there as I could. I wrote a large piece called "Instructions (on How to Survive a Fairy Tale)" for chamber orchestra and soprano. The ensemble included almost all of the people I had become close to there, and featured
Jennifer Lanman
as soprano soloist. It was a good night.
"Il Dolce Master CD" – In November of 2001, I got an amazing opportunity through
Elliott Miles McKinley
to have a Czech piano trio record "il dolce stile nuovo". I went to Prague to be present for that recording, and it was a real trip to remember. The recording studio was built in this old 18th century ballroom, with plaster walls and a very high ceiling. The recording booth was through a door off of one side of the room, and the room, obviously having not been designed for electricity and audio cables, had to be carefully modified to accommodate those. What they had done was taken a sledgehammer, and beaten a giant groove into the plaster walls that they then ran all of their cabling through. But the trio of very young men, all around 20, did the most amazing recording – probably the most listened to recording I have.
"Composition Orchestral Readings. 11/30/04" – Honestly, I don't remember what piece this was for. It's from my time at IU. I should probably listen to it
"Student Comp. Readings MC040 Composer #2 04/17/03" – Another reading session from IU – I *think* this was for my alto flute concerto? Not sure, though.
"Canvas, The Summer Edition" – The first recording I ever made, in 1993, when I was still 19. This is our "demo" that we sent around to promoters, club owners, labels, reviewers, etc. We were kind of… alternative progressive metal? I was 19. The cover art was by our awesome friend
Roberto Torres-Torres
. We also had a violinist in the band at the time, which was unusual, and that was
Heath Douglas Hayner
.
Hopefully, I'll have more of these to add to the collection in the near future!