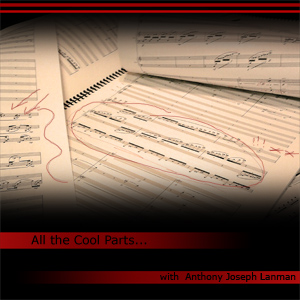 If you were unaware, I've begun my own classical music podcast called All the Cool Parts.  I've been a podcast listener for years, and I've wanted to do one for a long time.  I finally stopped procrastinating and just did one.  Once I overcame all of the initial technical hurdles, it all got much easier.  My experience doing All the Cool Parts has been really cool so far.  I've gotten a lot of positive feedback, especially concerning the initial episode.  I also started a kind of call for recordings called All the Cool Parts Idol.  This is where I hope to get some cool recordings from some up and coming artists that might still be under the radar.  So far, I haven't received a single submission, which kind of surprises me, but I'll just keep putting the call out there and hope I get something.
I love podcasts, and I took inspiration for doing mine from many different favorites.  Among them, The Instance, the Naxos Podcast, Filmsack, and Coverville.  All great podcasts – all worth checking out (excepting possibly The Instance, which if you don't play World of Warcraft, will be incomprehensible).
I plan to keep doing All the Cool Parts indefinitely, presenting "recent" classical music recordings (and by recent, I mean perhaps recordings spanning the last perhaps 15-20 years).  Because I'm doing the podcast totally on my own, and not under the auspices of some record label, etc, I'm free to present whatever I want to present, which is exactly how I want it.  Some may wonder why I would present a recording that was made in 1992 (as I did in the last podcast with the Ensemble Modern album of Zappa).  My reasoning here is that no classical music recording – certainly released within the last 20 years – has had enough of a large scale impact that everyone would know the recording already.  All of these recordings need more exposure – even one from 1992.
Another thing I'll be doing in addition to presenting recordings – I'll also be doing shows presenting web sites of performers, composers or ensembles – providing there is enough downloadable and/or streaming content on the site.  If you have any suggestions of great web sites and/or recordings – please let me know!  I'm always open to suggestions, and to things that might have slipped past my notice.
The web site for the podcast is http://allthecoolparts.blogspot.com – please check it out and give the podcast a try.  You can also subscribe in iTunes.